Guam Night Life 'info & links' are provided as a guide for your use and are the
thoughts and opinions of Mr. J. Segal. Ctc Segal at johannsegal@gmail.com
Enjoy and Enjoy again!!!

---
1. Where to Drink the Best Cocktails on Guam?

Jun Tender / Master Bartender - 2014 Bacardi BLCC Champion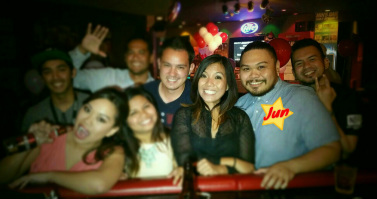 JUN TENDER not only is an awesome singer at Mins, he is also a Master Bartender. Although 'bartender' is somewhat an understatement as each Drink is Sorcery!!!

Any Mix concocted by Jun is a ceremony to enjoy. So sit back, relax, and watch the master mixer create your masterpiece.

Where can you find him?
At DROP BAR located in Tumon across Churrasco. Don't forget to Try out his award-winning Mother of Pearl Cocktail made with Bombay Sapphire.
Also take the time to try out his other great concoctions made with Magical Lemon Grass.

Drop Bar Guam is Pika Best of Guam: 2014 & 2015 Best Cocktail Bar on Guam
Rightfully so, Guam's Best Cocktail Bartenders are at Drop!!!

---
Segal at Drop Bar Guam enjoying Cocktail Mixes from Sorcerer Jun Tender & Wizard Jantzen Pueyo.


---

Where is Drop Bar on Guam?


Located on the Main Street of Tumon (Pale San Vitores Rd.) Across the Street from Churrasco Brazilian Restaurant....and right beside Bahn Thai Restaurant.
Enjoy Great Cocktails in an Ambient setting. Drop is well known for featured DJ Nights and Music from EDM to Jazz!!!

---
2. Where can I find cheap Taxi transportation on Guam within Tumon or Tamuning?
Drank too much and need a ride home?

There are various "Call Taxi" Service that charge $6-$7 between Hilton & Nikko Hotel. They can drop you just about anywhere on the Island, but of course 'that' will cost more.
It's a whole lot cheaper than a DUI Ticket which also includes a 2 Night Stay at Camp Sober in Hagatna!!!
Why risk it? Call Guam Call Taxi. Ask for Peter at 777-1000.
Military Note: Always ask the rate when you call, not all Call Taxi can get on base, so if you don't want to walk from the main gate, SEE #4, next feature.
---
3. Best Transportation Shuttle for Military and visitors TDY on Guam. Do you need transportation with Base Access, Naval Station, Guam &/or Anderson Air Force Base?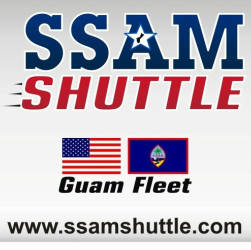 So you're in the Military and you've arrived on Guam!!!
Welcome to Guam
!!!
After you've settled in, the chances are you'll find yourself wanting to immerse yourself in Guam's Entertainment Night Life (or Day Life, whichever you prefer).
Which means you and your crew will probably visit Tamuning or Tumon where International Chain restaurants are located, like Ruby Tuesday's and CPK.
After Dinner we'll see you in Tumon which is where Majority of our Hotels, Lounges, Bar, Night Clubs, etc... are located.
There's all sorts of entertainment here and with a friendly smile, courtesy, & common respect, you will get along with our locals and everyone else who has made Guam their home.

Guam's multi-cultural ethnic mix offers a microcosm of the world. Guam's own rich Chamorro culture and heritage draws visitors from Japan, other Asian countries and Europe. Guam is very popular with Tourists, with over a million visitors a year from Japan, South Korea, Taiwan, China, & even Russia. (yes in that order).
After getting your fill of Food & Entertainment (Polynesian Shows, Cultural Shows, Beach / Water Sports, Night Sports, etc...)...and Drinks where alcohol gets involved, it's time to head home.

Good News!!!, there is SSAM Shuttle specifically tailored for Military Servicemen, their Dependents, & persons with Base Access I.D. So if you're needing transportation TO / FROM Naval Station or Anderson Air Force Base, give them a call at 689-7726. Or visit their website by clicking: http://www.shuttleguam.com

Below Rates are for reference only. Call SSAM shuttle for current pricing
<quote>
SSAM Shuttle provides door-to-door services
.
Our most commonly requested services are (prices are quoted on a one-way basis):
Andersen Air Force Base (North side of Guam)
Traveling: Andersen Air Force Base to Guam International Airport or Guam International Airport to Andersen Air Force Base (door-to-door), including the MAC Terminal:
- Individual $45.00
- Family (up to 3 members) $45.00
- Family (4 or more members) $60.00
- From the MAC Air Terminal (Andersen Air Force Base) to Big Navy
Minimal charge: $75 (up to 5 persons)
Going Downtown: Andersen Base (door-to-door, including all base locations (housing, billeting, Shopettes, etc.)
Our rates are as follows (quoted on a one-way basis):
- Individual to Tumon $30.00
- Two or more riders $15.00 per person
Big Navy (South side of Guam)
Traveling: Big Navy Base to Guam International Airport or Guam International Airport to Big Navy (door-to-door), including the MAC Terminal:
- Individual $45.00
- Family (up to 3 members) $45.00
- Family (4 or more members) $60.00
- From the MAC Air Terminal (Andersen Air Force Base) to Big Navy Minimal charge: $75 (up to 5 persons)
Going Downtown: Big Navy Base (door-to-door, including all base locations (housing, billeting, Shopettes, etc.)
rates are as follows (quoted on a one-way basis):
- Individual to Tumon $45.00
- Three or more riders $15.00 per person
<end quote>
---